Blog - Thoughts on Real Estate and Other Things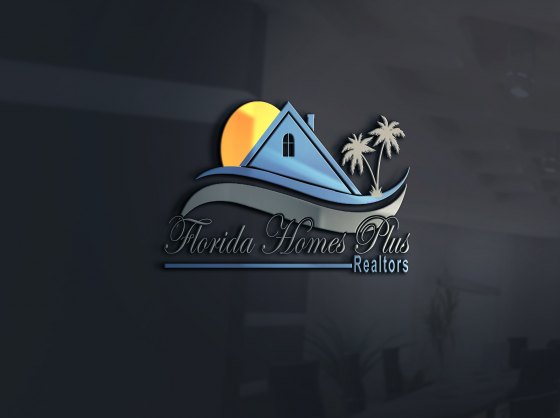 Blog 9/10/2018
Hot and Cold Market
Lately, I have found myself talking to my clients about the market conditions in central Florida. At the present we are still experiencing what is called a seller's market. That is there are more buyers than sellers. Thus, there is a shortage of houses. This makes the price go up (ah supply and demand).
In metropolitan Orlando, our buyers are finding themselves finding a good house, only to lose it to another buyer who was offering more money. We are also seeing an uptick in the number of showings for each house. New listings are not new for long, and will have several showings by agents in the first 24-48 hours.
What does this mean for my clients (and buyers) in general? Since there is a shortage of homes, the prices for homes goes up (at least at first). Sellers are also less willing to conduct any significant repairs to the property for the buyer. Their philosophy is if you the buyer want too much from them, they will just go to the next buyer in line behind you.
However, there is a cooling trend where homes that were priced to high are coming back to earth. Your agent should be able to tell you what nearby homes sold for recently. These are called comps (comparable) that are similar to the ones you are looking at.
So, if you are patient there are still good deals to be had. It also helps if you are flexible as to area that you want to live in. That being said, if you fall in love with a house that was just listed on the market, and you can't live without it? Be prepared to pay more.
Blog 8.8.18
Moving to Florida from somewhere up north
Heat/Humidity – Florida is humid and hot. I have lived in Las Vegas (hot, never humid) but the heat here can be tough to take. I often stay inside most of the summer and partake in outside activities the rest of the year. Native Floridians relish the heat and are much more acclimated to it than me. I often wonder how long it will take to share their tolerance of heat.

Size of state and driving (roads)- Florida is big. From the top to the keys can be 9 plus hour drive (to Key West). There is not much in the middle of the state, as everything is built along the coasts (except for Orlando). The roads are in pretty good shape, especially compared to Michigan (where I lived for quite awhile). There are toll roads but I am happy to pay extra for smooth sailing on fresh blacktop.

Bugs – Yes, there are lots. They seem to be bigger down in Florida. I have seen several grasshoppers that exceed 4 inches. I am sure they would make great bait for fishing. We have the same number of mosquitos as up north. Disney does a great job at managing these pests, so there are far fewer on property.

Critters – I live at the south end of the Ocala national forest. Paisley, Florida is a tiny, tiny town. Being so close to the forest means lots of great critters. Sandhill cranes, black bears and lots of deer are often seen in my yard. Due to its temperate climate, Florida has a lot of feral cats. So we have several that my girlfriend has made friends with. We love the peace and quiet of the country. In Miami we had full size iguanas. Up in Orlando, the lizards are smaller and some can be quite beautiful

Seasons – There are seasons in the sense that winter here in Orlando gets chilly. Down to the low forties. Strangely, Miami (where I used to live) has a temp about 8 to 10 degrees warmer than Orlando. Summer is hot of course. No snow to be seen, but I have seen frost. Compared to up north, I'll take Florida. Scraping your windows in the winter is the worst.

Hurricanes- We experienced our first direct one last year (Irma). We were in Miami and it was pretty bad. No power for a week and it was quite hot out (so no A/C) We had a generator so we were not as bad off as some of our neighbors. The problem was there was no electricity to run the pumps at the gas station. No juice means no gas for the generator. No Bueno.

Theme parks – We have those in spades. Fortunately, if you are a Florida resident, you get a good discount on tickets (usually about 50% off). I live in a small town called Paisley, which is about an hour's drive from Disney. We enjoy the parks, but not in the summer. They are packed as everyone is out of school, and boy is it hot out.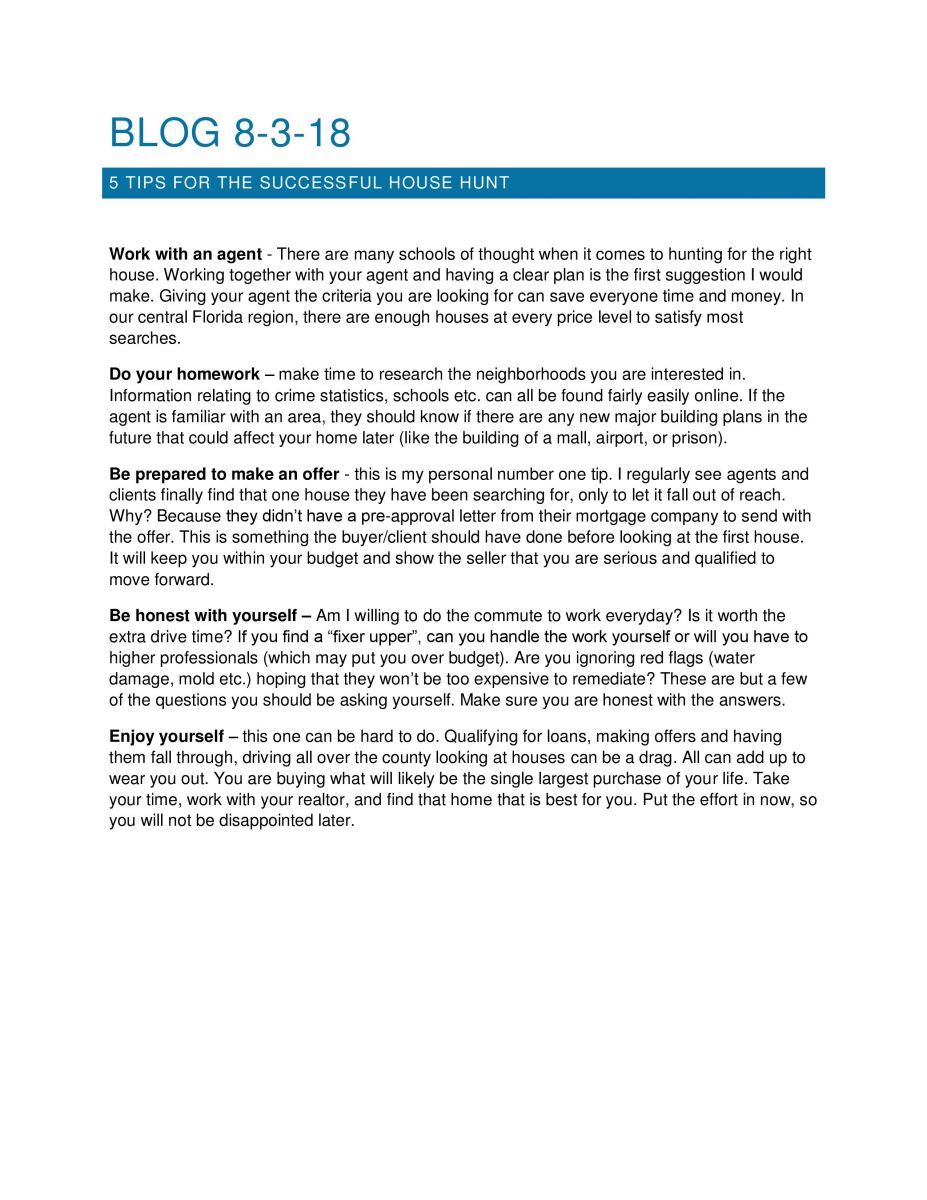 Blog 7.29.18
Quick Guide to Loan Types
Most of us are not blessed with the cash required to pay for a house in full. Typically, it is a struggle to come up with the money down (aka "down payment" to qualify for a loan. A commonly used benchmark is 20% down. For those of us that are genetically predisposed to being poor at math, this means on a $200,000 house, you will need 40k in cash.
There are several types of home loans that the new home buyer can qualify for. Like everything else, one size does not fit all. Here are a few of the more common types of mortgages.
The most common loan is the fixed rate loan.
What it is? The interest rate and the monthly payment you make stays the same for the life of the loan.
Who it is good for? This is a great loan for those of us who like to know how much we have to pay every month. Typically, loans are for 30 years. Therefore you will pay a certain amount, every month, for 30 years.
Adjustable rate loan (ARM)
What it is? A home loan where the interest rate is subject to change. This means it can go up (bad for you) or down (good for you).
Who its good for? Those than can afford to cover a higher than expected payment should the interest rate rise. Often these loans are attractive because they start with a rate that is lower than our fixed rate loan (seen above). They are also good for those with less than ideal credit scores or people who plan on only staying in the home for a few years.
Federal Housing Administration Loan (FHA)
What it is? A loan that requires much less of a down payment. Rather than the 20% most lenders want, this loan goes as low as 3.5%.
Who its good for? This loan is good for those who cannot save the cash for the 20% down. These loans come with some limitations. The rates are often fixed. Buyers are also typically required to buy mortgage insurance (also known as PMI). This is often around 1% of the loan and covers the lenders (Bank) loss if it has to foreclose on your home and does not get enough to cover what they loaned you.
VA Loan
What is it? If you meet certain requirements (after serving in the military) you can qualify for a loan with no money down and no mortgage insurance requirements.
Who its good for? Veterans that meet certain requirements. The government has certain other requirements for the types of homes you can qualify for. They also require a home appraisal to determine what the appraiser thinks the home should be worth. If the asking price is higher than that, you may have a problem.
This information is just the tip of the iceberg on home loans. Any first time home buyer will need to do their homework to find the best loans and rates for their particular situation.
Jonathan Wallner

Realtor®

Ph 352-901-8038

RE/MAX Touchstone

2785 S. Bay St. Ste. D, Eustis, FL 32726

Email: Jwallner@floridahomesplus.com

Email2: Jwallner@Remax.net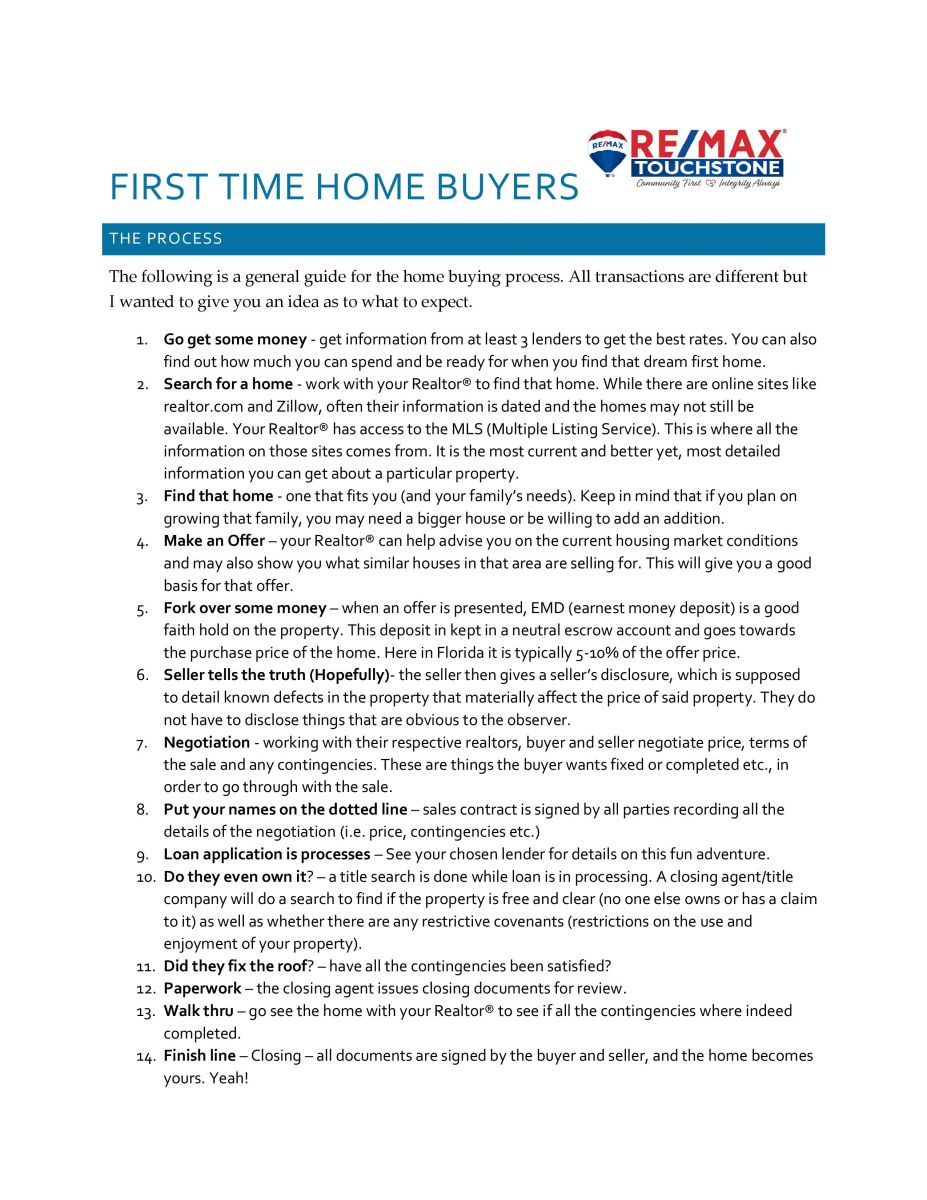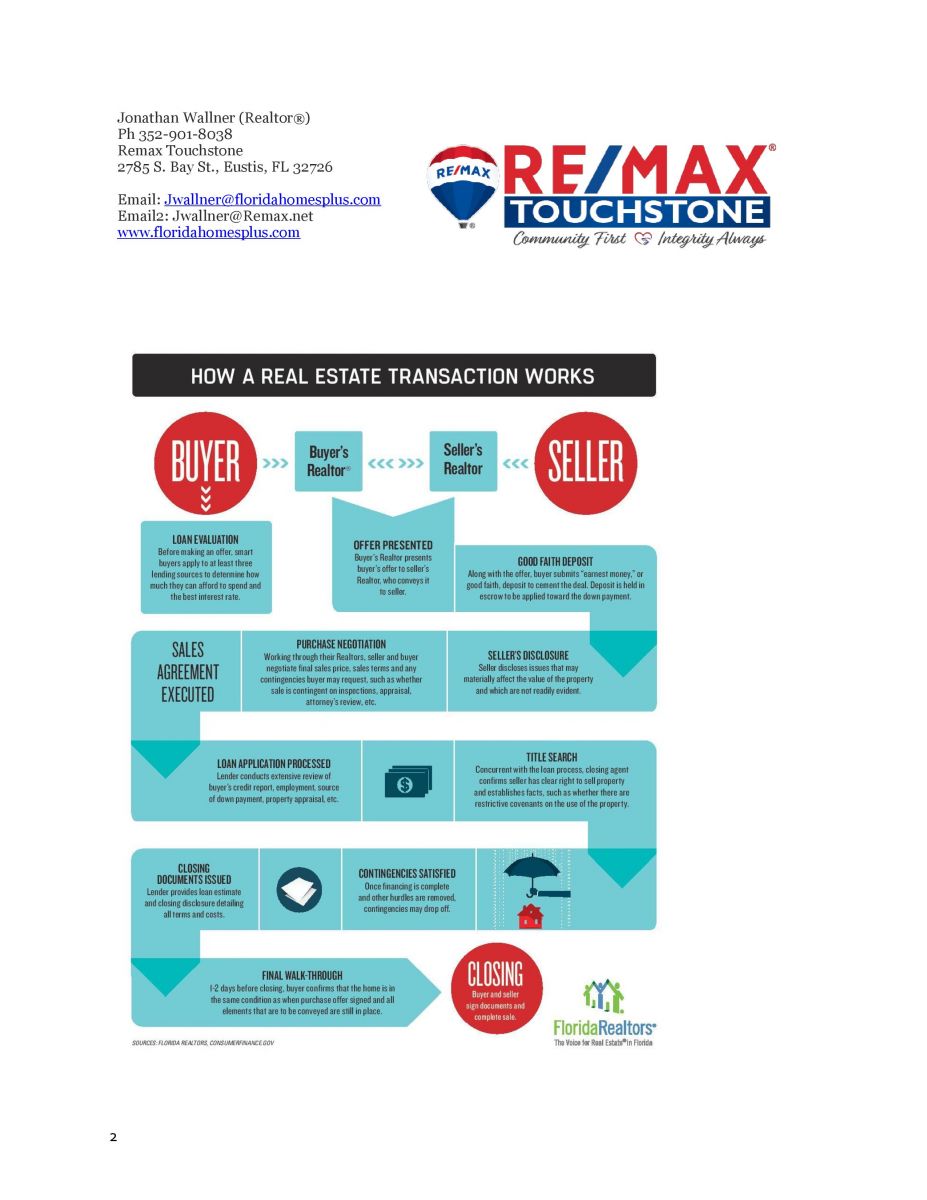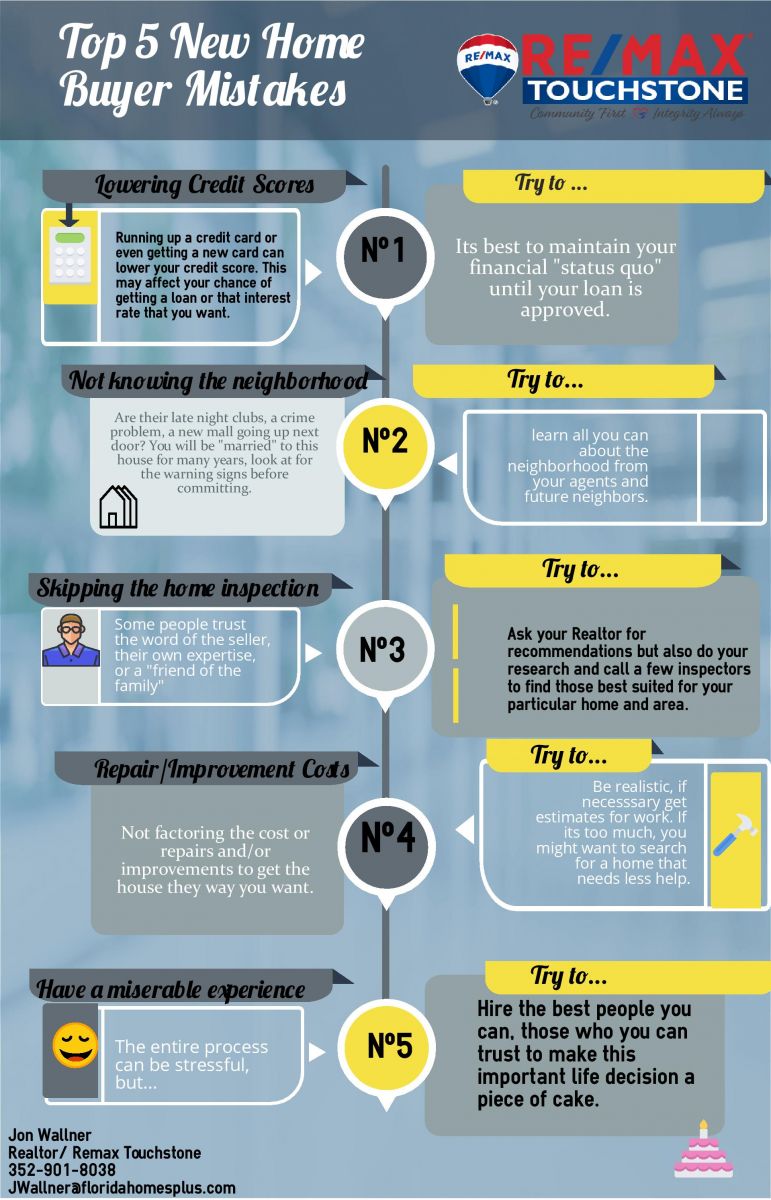 Blog 7.12.18
Pricing your home too high can ultimately hurt you in the end.
Many of us subscribe to the idea that when selling something, we should start with a higher price. That way we have some "wiggle room" to come down if no one is interested. In some transactions, this is a good approach. In the world of residential real estate, it can ultimately lead to headaches.
The first issue occurs if the homeowner is not pricing the home appropriately compared to similar homes in the area. Savvy buyers are working with highly trained Realtors® and know what similar houses such as yours are selling for. They will see your home as too high and not even consider it.
Homes that are listed too high scare away buyers and thus remain on the market for a while. Buyers will sense that there will have to be a significant amount of negotiation to get the home to what the market value is. Most buyers will not want that headache and will move on to the next comparable home.
The higher price means that your home will be on the market longer. The real estate search engines used by both buyers and Realtors® will state exactly how long the house has been on the market. The longer the time, the more likely people will ask themselves what is wrong with the house.
Often sellers are emotionally attached to their homes. They worked very hard for them and can remember every dollar spent in getting that home just they way they want it. Sellers want to realize a certain dollar amount to let those memories go.
Unfortunately, that emotion is not shared by the seller. They are just looking at your house in comparison to others that are very similar. Without them sharing your emotional connection, they will not be willing to pay more for you to part with your memories.
So, work with your agent whom you chose to help you sell your home. They will conduct a comparative market analysis and show you what similar homes have sold for, in your area, recently. This is one of the best ways to come up with a price that is both fair and marketable.
Blog 7.9.18
Why selling your home (for sale by owner) without a realtor can be a bad idea. (Part 1)
Many people ask me why they should hire a Realtor® to sell their home. Their primary motivating factor is of course to keep the most money possible from the sale of said home. There are several potential issues and pitfalls that many potential homeowners fail to consider.
The first reason is money. Yes, what is the underlying universal factor in all of these transactions is money, money, and more money. As a homeowner, no realtor fees for listing my house means more money for me.
Statistics, however, prove otherwise. "According to the National Association of Realtor®'s 2016 Profile of Home Buyers and Sellers, the average FSBO sales price was $185,000, while the average price for a home represented by an agent was $245,000. That's a difference of $60,000!"[i]
Additionally, selling your home leaves you lost in the world of contracts, clauses, and potential legal issues. Real estate professionals deal with home sales contract all the time, and a competent one will keep you and your property out of legal "hot water".
Advertising your home is easier now than in the past with the popularity of the internet and sites such as craigslist. Unfortunately for the home seller, these sites are limited in their scope and leave you open to a lot of unwanted contact from buyers who are less than serious.
Realtors® place your home on a database called the MLS (Multiple Listing Service). This database is searchable by every realtor that subscribes to the MLS (and they all do). In Florida alone, that puts your home in front of over 221,000 realtors® [ii]
Frankly, the more people that see your house the more likely you are to find a buyer quickly. If there are several potential buyers, the bidding can begin and you will realize more profit than if listed without a realtor.